30 Month Newsletter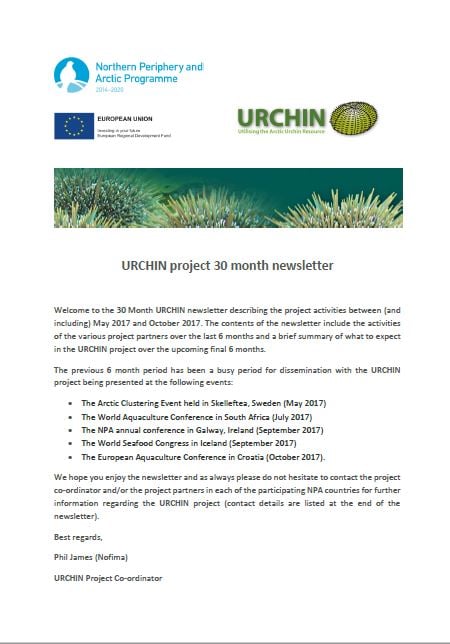 Welcome to the 30 Month URCHIN newsletter describing the project activities between (and including) May 2017 and October 2017. The contents of the newsletter include the activities of the various project partners over the last 6 months and a brief summary of what to expect in the URCHIN project over the upcoming final 6 months.
The previous 6 month period has been a busy period for dissemination with the URCHIN project being presented at the following events:
The Arctic Clustering Event held in Skelleftea, Sweden (May 2017)
The World Aquaculture Conference in South Africa (July 2017)
The NPA annual conference in Galway, Ireland (September 2017)
The World Seafood Congress in Iceland (September 2017)
The European Aquaculture Conference in Croatia (October 2017).
We hope you enjoy the newsletter and as always please do not hesitate to contact the project co-ordinator and/or the project partners in each of the participating NPA countries for further information regarding the URCHIN project (contact details are listed at the end of the newsletter).
Best regards,
Phil James (Nofima)
URCHIN Project Co-ordinator
(See the full 30 month report attached)